Many miles from the last place I called Home, I have now fully installed myself in Memphis, Tennessee.
(THANK YOU, Mom, for all the help moving me here!!)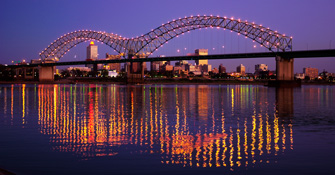 This city is definitely different from other metropolises where I have previously lived, and I am excited to learn what makes it tick. It is located in the most Southwest part of Tennessee, and is separated from Arkansas only by a river. A very large river. The Mississippi River!
Driving around, I have noticed that there are a lot of: barbecue restaurants, car washes, and donut shops. I'm not sure if these are related… stay tuned, I will inspect them all carefully. The city has a pro basketball team, the
Memphis Grizzlies
, and thanks to a
new owner
(who is
34 years old
, a millionaire, handsome, and of course, married) and a 'Welcome to Memphis' column for him, I have had a crash course on a new quotidian:
(Thank you,
Geoff Calkins
of
The Commercial Appeal
, for this list)
Betty & Jessie visit Elvis
No need to every say, "Walking in Memphis," either.

If you're going to follow one Memphian on Twitter, you can't go wrong with Tony Allen.

If you're a 34 year old male, like your bio

says (the new owner), you should probably be on a barbecue team.

Yes, there are two mayors, and two Kings, and more than two Parkways.

Just go with it, ok?

By now, somebody has surely asked you if you have found a church home.

Do not be offended.

There is no correct answer to the wet vs. dry debate.

(RIBS)

There is a correct answer to Motown vs. Stax.

After you've been here a while, you'll learn you can get anywhere on Poplar.

After you've been here a while longer, you'll learn you can get anywhere without having to go on Poplar.

P

erkins Extended is a continuation of Perkins, and runs parallel to Perkins.

It is mind-bending.

Go to Jerry's Sno Cones and get a supreme, go to Brother Juniper's and get the San Diegan, go to Gibson's and get a warm glazed, go to Iris and get anything.

Memphis just might be the best little basketball city on the planet. (Memhis Grizzlies (pro) and Memphis Tigers (University of Memphis).)

Yes, people still call the Hernando DeSoto Bridge – which opened in 1973 – the

new

bridge.

Wednesday night is "church night."

"Bless your heart" is not a compliment.

The very large man who shakes it for the DanceCam is named Rex.

He is excellent.

The man wearing outlandish suits is Mark Goodfellow.

He can get you auto financing, no matter your credit rating!

Cool places in Memphis

: The Shell, the Greenline, the Zoo, and the Civil Rights Museum.

St. Jude Children's Research Hospital will change your life.

Memphis has a heart as big and unceasing as the river that defines it.
"Twenty years from now you will be more disappointed by the things that you didn't do than by the ones you did do. So throw off the bowlines. Sail away from the safe harbor. Catch the trade winds in your sails. Explore. Dream. Discover."
- Mark Twain